Investigating Burnout among University Students in a Post-Disaster Environment: Was there enough Support?
(2014)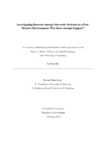 Type of Content
Theses / Dissertations
Thesis Discipline
Psychology
Degree Name
Master of Science
Publisher
University of Canterbury. Psychology
Collections
Abstract
Tertiary students, not just working populations, might be experiencing feelings of burnout following the Christchurch earthquakes of 2010 and 2011. In the aftermath of a major disaster, the gap between the resources available to handle pressures (e.g., support) and the demands inherent in the pursuit of an academic degree (e.g., heavy workload) may lead to feelings of burnout among students. This study hypothesised that burnout dimensions (emotional exhaustion and disengagement) would be related to students' perceptions of immediate institutional support, extended institutional support, peer support, family support, and work overload. Additionally, it was proposed that institutional and social support would moderate the relationship between work overload and burnout. Two hundred and seventy one third and fourth year students were sampled using an online questionnaire. These particular students were expected to be at greater risk of emotional exhaustion and academic disengagement because they were at the earliest stage of their tertiary education when the major earthquakes first hit. Family support and extended institutional support were found to be associated with decreased levels of emotional exhaustion and disengagement. Meanwhile, work overload was found to be related to increased levels of emotional exhaustion and disengagement. Furthermore, both peer support and immediate institutional support were found to have a moderating effect on the relationship between work overload and disengagement. This study has exposed unique findings which contribute to burnout research especially in a post-disaster context, and raises the importance of providing the right types of support for individuals who are particularly dealing with the consequences of a natural disaster.
Keywords
burnout; university students; support; post-disaster; Christchurch earthquake
Rights
Copyright Sonja Rae