Architect of empire: Joseph Fearis Munnings (1879-1937)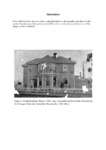 Author
Roberts, Heulwen Mary
Date
2013
Thesis Discipline
Art History
Degree Grantor
University of Canterbury
Degree Name
Master of Arts
New Zealand-born architect Joseph Fearis Munnings (1879-1937) is largely forgotten in the country of his birth. Considering the importance of his public works in Bihar and Orissa, India (1912-1919) and his prominence as a school architect in New South Wales, Australia (1923-1937), recognition of his architectural achievements is long overdue. This thesis takes as its premise the notion that early twentieth century architecture in colonial New Zealand, India and Australia was British, the rationale expounded by G. A. Bremner in Imperial Gothic– Religious Architecture and High Anglican Culture in the British Empire (2013). My thesis argues that, considering Munnings' colonial upbringing and English training, the styles he employed reflected his and his clients' identity as British. It explores the extent to which Munnings adapted British styles, by incorporating features appropriate for colonial conditions. Drawing upon the work of Ian Lochhead on the achievements of Samuel Hurst Seager, my thesis considers the role played by Seager in mentoring Munnings and guiding his philosophy of architecture. Peter Scriver's papers, 'Edge of empire or edge of Asia' (2009) and 'Complicity and Contradiction in the Office of the Consulting Architect to the Government of India, 1903-1921' (1996), also inform my analysis of Munnings' work in India. To enable an analysis of Munnings' work, this study divides his career into chronological stages: Early experiences and training, Christchurch, New Zealand, 1879-1903 Architectural training, London, England, 1903-1906 Partnership with Hurst Seager and Cecil Wood, Christchurch, 1906-1909 Work with Leonard Stokes, London, 1909 Responsibilities and achievements, India, 1910-1918 Contributions and achievements, New Zealand, 1919-1923 Partnership with Power and Adam, Sydney, Australia, 1923-1937. This thesis, the first comprehensive study of Munnings' career, illuminates the extent of his architectural legacy in India, his significant contribution to school architecture in New South Wales, and asserts his place as an architect of the British Empire.
Subjects
New Zealand Architecture

Joseph Fearis Munnings

Architecture of the British Empire

Samuel Hurst Seager

Cecil Wood

John James Collins

John Goddard Collins

Richard Dacre Harman

Joseph Porter Power

John Shedden Adam

New Zealand War Memorials

New Zealand Architects

Colonial Architecture in Patna (India)

Leonard Stokes

Edward R. Robson

Consulting Architect to Government of India

School Architecture

Sydney Architecture.
Collections
Related items
Showing items related by title, author, creator and subject.
Guo, Qianqian

(

University of Canterbury

,

2017

)

Nitrogen (N) is an essential macronutrient that limits plant yield and productivity. In order to increase crop yield, considerable amounts of nitrogenous fertilizers are applied to agriculture systems each year. However, ...

Head-Mears, James Bradley

(

University of Canterbury. HIT Lab NZ

,

2013

)

Augmented Reality (AR) is a powerful tool for the visualisation of, and interaction with, digital information, and has been successfully deployed in a number of consumer applications. Despite this, AR has had limited success ...

Mitrovic, Antonija

;

Martin, Brent

;

Suraweera, Pramuditha

;

Zakharov, Konstantin

;

Milik, Nancy

;

Holland, Jay

(

University of Canterbury

,

2005

)

This document reports the work done during the initial two months of the ASPIRE project, funded by the e-Learning Collaborative Development Fund grant 502. In this project, we will develop a Web-enabled authoring system ...