Instruction as a Scientific Experiment: A Professional Development Case Study of a Professor Changing the Introductory Astronomy Course for Non-Science Majors
(2007)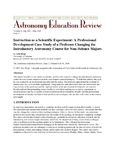 Type of Content
Journal Article
Publisher
University of Canterbury. University Centre for Teaching and Learning
University of Canterbury. AVC Research Office
Abstract
This article describes a case study of a faculty member who wanted to change his introductory astronomy course for non–science majors to include more learner-centered pedagogy. To help him achieve this goal, he was assisted by an instructional specialist and the author. The professor approached the overhaul of instructional style as a scientific experiment. Using interview and observation data, the motivations and expectations of this professor and the implementation of the professional development are explored. Results indicate that persuading science faculty to view their teaching as a scientific experiment or research project may be a valuable avenue for professional development. Results hint that professional development for faculty can benefit from professional developers who are also well vested in the content area taught.
Citation
Brogt, E. (2007) Instruction as a Scientific Experiment: A Professional Development Case Study of a Professor Changing the Introductory Astronomy Course for Non-Science Majors. Astronomy Education Review, 6(2), pp. 20-31.
This citation is automatically generated and may be unreliable. Use as a guide only.
ANZSRC Fields of Research
13 - Education::1302 - Curriculum and Pedagogy::130212 - Science, Technology and Engineering Curriculum and Pedagogy
39 - Education::3903 - Education systems::390303 - Higher education
13 - Education::1303 - Specialist Studies in Education::130313 - Teacher Education and Professional Development of Educators
Related items
Showing items related by title, author, creator and subject.
Buabeng I

;

Conner L

;

Winter D

(

IntechOpenIntechOpen Limited

,

2018

)

This study sought insight into the professional learning and development needs of physics teachers in New Zealand high schools. It used a mixed methods approach that comprised a national survey of high school physics ...

North CJ

;

Clelland T

;

Lindsay H

(

Informa UK Limited

,

2018

)

© 2018, © 2018 Informa UK Limited, trading as Taylor & Francis Group. The literature suggests that radical changes to teacher education are common but rarely well-planned or resourced. Such changes can be detrimental to ...

Buabeng, I.

;

Conner, L.

;

Winter, D.

(

University of Canterbury. School of Teacher Education

,

2016

)

This paper explores New Zealand (NZ) physics teachers' and physics educators' views about Initial Teacher Education (ITE). Perspectives of physics teachers nationally indicated that in general, teachers considered themselves ...