Wave functions for arbitrary operator ordering in the de Sitter minisuperspace approximation
(2000)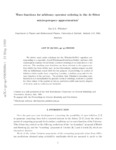 View/Open
Type of Content
Journal Article
Publisher
University of Canterbury. Physics and Astronomy
ISSN
0001-7701
Abstract
We derive exact series solutions for the Wheeler-DeWitt equation corresponding to a spatially closed Friedmann-Robertson-Walker universe with cosmological constant for arbitrary operator ordering of the scale factor of the universe. The resulting wave functions are those relevant to the approximation which has been widely used in two-dimensional minisuperspace models with an inflationary scalar field for the purpose of predicting the period of inflation which results from competing boundary condition proposals for the wave function of the universe. The problem that Vilenkin's tunneling wave function is not normalizable for general operator orderings, is shown to persist for other values of the spatial curvature, and when additional matter degrees of freedom such as radiation are included.
Citation
Wiltshire, D.L. (2000) Wave functions for arbitrary operator ordering in the de Sitter minisuperspace approximation. General Relativity and Gravitation, 32(3), pp. 515-528.
This citation is automatically generated and may be unreliable. Use as a guide only.
ANZSRC Fields of Research
51 - Physical sciences::5101 - Astronomical sciences::510103 - Cosmology and extragalactic astronomy
49 - Mathematical sciences::4902 - Mathematical physics::490299 - Mathematical physics not elsewhere classified
Related items
Showing items related by title, author, creator and subject.
Waylen, Peter Charles

(

University of Canterbury. Dept. of Mathematics

,

1983

)

An insistence upon realism and simplicity is used along with Einstein's theory of gravitation to show that already ascertained facts on the large scale structure of the universe lead inexorably to a particular cosmological ...

Li Y-Z

;

Mourier P

;

Buchert T

;

Wiltshire DL

(

2018

)

We extend the general relativistic Lagrangian perturbation theory, recently developed for the formation of cosmic structures in a dust continuum, to the case of model universes containing a single fluid with a single–valued ...

Kontoleon, N.

;

Wiltshire, D.L.

(

University of Canterbury. Physics and Astronomy

,

1999

)

We demonstrate in the context of the minisuperspace model consisting of a closed Friedmann-Robertson-Walker universe coupled to a scalar field that Vilenkin's tunneling wavefunction can only be consistently defined for ...