The Antimodern Manifesto of the Rural Flaneur: When D'Arcy and John Go For a Wander
(2012)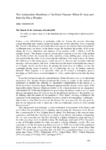 Type of Content
Journal Article
Publisher
University of Canterbury. School of Social and Political Sciences
University of Canterbury. Sociology
Citation
Grimshaw, M. (2012) The Antimodern Manifesto of the Rural Flaneur: When D'Arcy and John Go For a Wander. Journal of New Zealand Studies, 13, pp. 144-153.
This citation is automatically generated and may be unreliable. Use as a guide only.
ANZSRC Fields of Research
44 - Human society::4410 - Sociology::441016 - Urban sociology and community studies
44 - Human society::4410 - Sociology::441003 - Rural sociology
16 - Studies in Human Society::1601 - Anthropology::160104 - Social and Cultural Anthropology
Related items
Showing items related by title, author, creator and subject.
Wilson E

;

Perez-y-Perez M

;

Evans NA

(

Informa UK Limited

,

2017

)

© 2017 Informa UK Limited, trading as Taylor & Francis Group. Debates concerning hip-hop have tended to centre on controversy. For example, critics of hip-hop have focused on its association with bads such as violence, ...

Matheson, D.

;

Jones, A.

(

University of Canterbury. School of Language, Social and Political SciencesUniversity of Canterbury. Media and Communications

,

2016

)

This article conceptualizes social capital in communicative terms to describe the social resources available to members of one suburb in Christchurch, New Zealand, as they seek to recover from a natural disaster. It notes ...

Glassey, S.

;

Wilson, T.M.

(

University of Canterbury. Geological Sciences

,

2011

)

At 4.35am on Saturday 4 September 2010, a magnitude 7.1 earthquake struck near the township of Darfield in Canterbury leading to widespread damage in Christchurch and the wider central Canterbury region. Though it was ...