Structural Performance of Post-tensioned Timber Frames under Gravity Loading
(2013)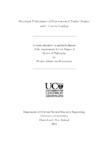 View/Open
Type of Content
Theses / Dissertations
Thesis Discipline
Civil Engineering
Degree Name
Doctor of Philosophy
Publisher
University of Canterbury. Department of Civil and Natural Resources engineering
Collections
Authors
van Beerschoten, Wouter Adrian
show all
Abstract
A new structural system for multi-storey timber buildings has been developed over the last seven years at the University of Canterbury. The system incorporates large timber structural frames, whereby semi-rigid beam-column connections are created using post-tensioning steel tendons. This system can create large open floor plans required for office and commercial buildings.
Several material properties of the engineered timber used were determined based on small-scale experimental testing. Full-scale testing of beams, connections and frames resulted in a more comprehensive understanding of the behaviour of such systems. Numerical, analytical and framework models also led to the development of design equations and procedures which were validated with the acquired experimental data.
Keywords
Timber; frames; beams; post-tensioning; LVL; material properties; connections
Rights
Copyright Wouter Adrian van Beerschoten
Related items
Showing items related by title, author, creator and subject.
Granello G

;

Leyder C

;

Frangi A

;

Palermo A

;

Chatzi E

(

2018

)

The concept of post-tensioned timber structures has been developed and implemented since 2005. The technology relies on un-bonded post-tensioned timber elements to create a moment resisting connection. After several years ...

Quiquero H

;

Gales J

;

Abu A

;

Moss P

(

2018

)

In order to implement innovative timber structures globally, performance-based design using numerical models are often required. A model was developed to simulate post-tensioned (PT) timber beams in FEM software ABAQUS ...

Granello G

;

Broccardo M

;

Palermo A

;

Pampanin S

(

SAGE Publications

,

2020

)

Since 2010, the construction of post-tensioned wooden buildings (Pres-Lam) has been growing rapidly worldwide. Pres-Lam technology combines unbonded post tensioning tendons and supplemental damping devices to provide moment ...