Assistive techniques for precise touch interaction in handheld augmented reality environments
(2012)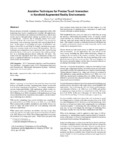 Type of Content
Conference Contributions - Published
Publisher
University of Canterbury. Human Interface Technology Laboratory
Collections
Authors
Lee, G.A.,
Billinghurst, M.
show all
Abstract
Recent advances in mobile computing and augmented reality (AR) technology have lead to popularization of mobile AR applications. Touch screen interfaces are common in mobile devices, and are also widely used in AR applications running on mobile devices, such as smartphones. However, due to unsteady camera view movement in handheld AR environment, it is hard to carry out precise interactions, such as drawing, especially when tracing physical objects. In this paper, we investigate two types of interaction techniques, Freeze-Set-Go and Snap-To-Feature, that help users to perform more accurate touch screen based AR interactions. The two techniques are compared in a user experiment with a task of tracing physical objects, which can be encountered when making annotation on or modeling physical objects within the AR scene. The results from the experiment show that a combination of these two makes a significant difference in accuracy and usability of touch screen based AR interaction.
Citation
Lee, G.A., Billinghurst, M. (2012) Assistive techniques for precise touch interaction in handheld augmented reality environments. Singapore: 11th ACM SIGGRAPH International Conference on Virtual-Reality Continuum and its Applications in Industry (VRCAI'12), 2-4 Dec 2012. Proceedings, 279-286.
This citation is automatically generated and may be unreliable. Use as a guide only.
Keywords
augmented reality; touch screen interface; annotation; freeze; snap
ANZSRC Fields of Research
08 - Information and Computing Sciences::0801 - Artificial Intelligence and Image Processing::080111 - Virtual Reality and Related Simulation
08 - Information and Computing Sciences::0805 - Distributed Computing::080502 - Mobile Technologies
Rights
"Permission to make digital or hard copies of part or all of this work for personal or classroom use is granted without fee provided that copies are not made or distributed for profit or commercial advantage and that copies bear this notice and the full citation on the first page. Copyrights for components of this work owned by others than ACM must be honored. Abstracting with Revised 4/2/2013 3 credit is permitted. To copy otherwise, to republish, to post on servers or to redistribute to lists, requires prior specific permission and/or a fee." 