Past within the Plot: Two Narrative Historians and their Discontents
(2013)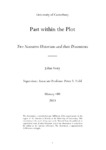 Type of Content
Theses / Dissertations
Thesis Discipline
History
Degree Name
Bachelor of Arts (Hons)
Publisher
University of Canterbury. History
Collections
Abstract
This dissertation examines the coexistence of 'narrative', popular history, which aims to tell a story to edify and entertain, with 'structural' history, which gained precedence in the university from the nineteenth century onward. Using the case studies of Simon Schama and Niall Ferguson, popular historians who transitioned from early 'structural' works to 'narrative' books and finally documentary, the precise nature of narrative is examined through the theory of literary historical tropes developed by Hayden White, where a political perspective engages an 'emplotment' where a form of narrative develops. After examining how tropes apply to the life experience, ideology and resulting emplotment of Schama and Ferguson, it looks at the academic criticisms of their narratives, in text and television documentary - namely, that the organisation of data into a compelling story negates accuracy and objectivity in the name of entertainment. Subsequently, the similarity of Schama and Ferguson's narrative style is compared to pre-academic historical writings from before Leopold von Ranke. The final argument is that the popular history espoused by Schama and Ferguson is a re-emergence of the older, pre-academic style, based on narrative, which predates the structural history which displaced it. This dissertation concludes by examining how the two historiographies might coexist, arguing that the new narrative can offer excitement and purpose to the structural historian, giving relevance to the rigorous work of structural history.
Rights
Copyright Julian Vesty
Related items
Showing items related by title, author, creator and subject.
Vesty, Julian

(

University of Canterbury

,

2016

)

The Dominican friars in northern France produced an extensive programme of theological writing, notable both for its erudition, and its all-encompassing treatment of varied theological topics. Despite an abundance of ...

Pokoati, Connor

(

University of Canterbury

,

2018

)

Since its conception, the European Union (EU) has battled to confirm its legitimacy as an influential player within the global arena, where some have considered the EU to be a "new superpower" (Reid, 2004; Schnabel, 2005; ...

Tang, Nianqi (Petra)

(

University of Canterbury

,

2011

)

Early astronomy activities were not practiced until the 1950s, however today the activities are undergoing at four plateau sites: the Amundsen-Scott South Pole Station, Concordia Station at Dome A, Kunlun Station at Dome ...