Smoke control and mechanical air handling.
(1992)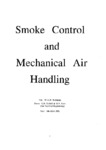 View/Open
Type of Content
Reports
Publisher
University of Canterbury. Civil Engineering
Authors
Liddell, S. W.,
Nant, M. P.
show all
Abstract
It is well known that smoke and toxic gases are the major killers associated with all fires. Modern day air conditioning systems, whilst providing a comfortable atmosphere for occupants of a building, have also provided the means by which smoke and toxic gases can move throughout a building, endangering the occupants safety. Current trends in air handling system design are to halt this migration of smoke, assist in providing safe escape routes, and aiding in quick extinguishment. A number of methods referred to in our report attempt to accomplish these requirements, but it must be realised that these are not the only ways in which effective smoke handling can be achieved. New methods are still being tried and the scope for innovative engineering in mechanical air handling is enormous.
ANZSRC Fields of Research
09 - Engineering::0905 - Civil Engineering::090599 - Civil Engineering not elsewhere classified
Rights
Copyright S. W. Liddell and M. P. Nant