The Electric Power Engineering Centre 'New Zealand's Centre for Excellence in Power'
(2005)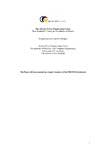 View/Open
Type of Content
Conference Contributions - Published
Publisher
University of Canterbury. Electrical and Computer Engineering.
Collections
Authors
Lawrence, J.,
Bodger, P.S.
show all
Abstract
Since the launch of the Electric Power Engineering Centre (EPECentre or EPEC) in June 2002 with the support of New Zealand's electric power industry (via the Power Engineering Excellence Trust (PEET)), future prospects for power engineering in New Zealand is looking extremely positive. The EPECentre has been involved in facilitating and implementing a host of programmes, activities, and initiatives, including various field trips, onsite lectures, visiting lecturer programmes, premium scholarships, conferences, conventions, expos, market research, and work placement/graduate recruitment in the power industry – these have resulted in increased student enrolments in power courses at the University of Canterbury for three consecutive years (2003-2005), since the inception of EPEC. There are now around twice as many students enrolled in power courses compared to 2002 i.e. classes are twice as big, from as little as 14 students in 2002, to 35 in 2005 – an impressive 150% increase in just 3 years. Consequently, this has also lead to a renewed interest in power engineering research and innovation in New Zealand, and the EPECentre has now become the focus point for this new directive, with the launch of New Zealand's first ever electric power engineering research and development programme in April 2005. The EPECentre is now focused on the facilitation and implementation of collaborative industry-academia research and development (R and D), 'a win-win for both academia and industry', while continuing with its successful initiatives to boost the quantity and the quality of power engineering graduates in New Zealand.
Citation
Lawrence, J., Bodger, P. (2005) The Electric Power Engineering Centre 'New Zealand's Centre for Excellence in Power'. Auckland, New Zealand: Electricity Engineers Association Annual Conference, 17-18 Jun 2005.
This citation is automatically generated and may be unreliable. Use as a guide only.