A low-voltage, mains frequency, partial core, high temperature, superconducting transformer
(2005)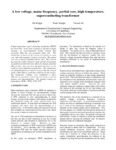 View/Open
Type of Content
Conference Contributions - Published
Publisher
University of Canterbury. Electrical and Computer Engineering.
Collections
Authors
Bodger, P.S.,
Enright, W.,
Ho, V.
show all
Abstract
A high temperature super-conducting transformer (HTST) has been built. It has been designed to operate in liquid nitrogen, an environmentally benign element that represents little fire and personnel safety risk. The transformer is based on the concept of a partial or open core, where the magnetic circuit is incomplete. The partial core was a slug of laminated silicon steel. This concept has been the result of intensive study and the development of analytical models that have allowed a design somewhat different than what has been attempted elsewhere in the world of superconducting transformers. The transformer was designed purely as a device to prove that the concept works, rather than as a unit that would be put into service. The transformer windings were configured to allow different arrangements, namely internal primary, external primary and autotransformer. The nominal ratings are single phase, 50 Hz, 15kVA, 230V:115V.
Citation
Bodger, P., Enright, W., Ho, V. (2005) A low-voltage, mains frequency, partial core, high temperature, superconducting transformer. Hobart, Australia: Australasian Universities Power Engineering Conference - AUPEC 2005, 25-28 Sep 2005.
This citation is automatically generated and may be unreliable. Use as a guide only.