Testing full-core and partial-core transformers at ambient and cryogenic temperatures
(2002)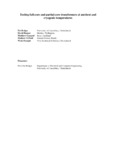 View/Open
Type of Content
Conference Contributions - Published
Publisher
University of Canterbury. Electrical and Computer Engineering.
Collections
Authors
Bodger, P.S.,
Harper, D.,
Gazzard, M.,
O'Neill, M.,
Enright, W.
show all
Abstract
Single phase, full-core transformers were fitted with either silicon or amorphous steel cores and immersed in either standard transformer oil or liquid nitrogen. Each transformer was subjected to a capacitance and dissipation factor test to determine the integrity of the insulation systems. Open circuit and short circuit tests were then undertaken to determine core and winding losses. Similar tests were also conducted on a silicon steel partial-core transformer. Full load tests on this transformer showed a high level of efficiency and low regulation, even at ambient temperatures.
Citation
Bodger, P.S., Harper, D., Gazzard, M., O'Neill, M., Enright, W. (2002) Testing full-core and partial-core transformers at ambient and cryogenic temperatures. Christchurch, New Zealand: Electricity Engineers' Association of New Zealand Annual Conference, Jun 2002. 8 pp.
This citation is automatically generated and may be unreliable. Use as a guide only.