Smoke Alarm Ownership in Relation to Socio-Economic Factors
(2001)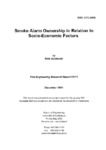 Type of Content
Reports
Publisher
University of Canterbury. Civil Engineering
ISSN
1173-5996
Abstract
This study focuses on smoke alarm ownership within Christchurch. Two different areas were selected, based on income levels. These two areas, Holmwood and Avon Loop, were then compared to determine if socio-economic factors impact on smoke alarm ownership. This study focused primarily on the relationships between smoke alarm ownership and location, income, education, and home ownership. Other topics discussed include the number of alarms per household, escape plans, people who smoke in the household, heating methods, reasons for non-purchase and other specific relationships that were uncovered during the study. The results between the two areas are significant for various reasons explained in this study.
Rights
Copyright Nick Buchanan
Related items
Showing items related by title, author, creator and subject.
Wang X

;

Wilson G

;

Petrovic, Milenko

(

National Centre for Research on Europe, University of Canterbury

,

2019

)

The two policy briefs that this Jean Monnet Chair will issue annually for the period September 2017 – September 2020 will cover the following aspects of the contemporary developments of the Balkan States and the Eastern ...

Alm, J.

;

Clark, J.

;

Leibel, K.

(

College of Business and Economics, University of CanterburyUniversity of Canterbury. Department of Economics and Finance

,

2011

)

In this paper we present a rare empirical study on the determinants of tax filing compliance in the United States using county and state level data from 2000 to 2006. As well as including explanatory variables identified ...

There has been much debate in recent times concerning the need for a separate and comprehensive capital gains tax (CGT) in New Zealand (NZ). Some of this debate can be attributed to the prominence that this topic gained ...