Transparency, Accountability, Aid and the European Union
(2013)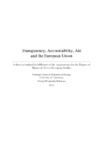 Type of Content
Theses / Dissertations
Thesis Discipline
European Studies
Degree Name
Master of Arts
Publisher
University of Canterbury. National Centre of Research on Europe
Collections
Authors
Makwana, Shivani Bhupendra
show all
Abstract
In the midst of the international development agenda, two concepts have recently emerged, transparency and accountability. These concepts represent ideas, which have shaped the current direction in which development has been managed. Recent international agreements and partnerships, including the Paris Declaration for Aid Effectiveness and the Accra Agenda for Action, have mentioned transparency and accountability as principles that may create greater aid effectiveness. In a time of austerity, development aid has come under pressure to create results. Transparency and accountability are concepts that may allow for an efficient use of Overseas Development Assistance (ODA). Large donors of ODA shape the development agenda. Yet, many developed nations face questions from citizens regarding finances. The European Union (EU) has provided an example of integration and coherence within development policies. EU Member States and the EU are large donors of ODA. However, the austerity measures have caused a need to re-examine the way in which development aid is spent. Transparent and accountable policies may create effectiveness and efficiency within the deliverance of ODA. By examining the EU and EU Member States, the relevance of transparency and accountability may be understood. This thesis attempts to divulge the complex relationships between transparency, accountability, co-operation and the EU. Furthermore, primary data has been collected on the levels of transparency and accountability within the EU and EU Member States. The role of co-operation and partnership for these actors provides a greater understanding of the perspectives towards development aid. Transparency and accountability may allow for responsibility and trust to occur within co-operative efforts in implementing development aid. The relevance, purpose, and operationalisation of the concepts are central to this research.
Keywords
European Union; Development aid; transparency; accountability
Rights
Copyright Shivani Bhupendra Makwana
Related items
Showing items related by title, author, creator and subject.
McLintock, Shontal Rae

(

University of Canterbury

,

2018

)

Water is central to our ability to lead a life of quality. We require it for most day to day activities, using it for domestic purposes and consumption, growing crops, even recreational activities. Consider now, what ...

Lyttle, David Michael John

(

University of Canterbury. National Centre for Research on Europe

,

2009

)

In early December 2006, the Fijian military seized power in a coup led by the Armed Forces commander Commodore Frank Bainimarama. It was a coup long expected, and Fiji's fourth since 1987. Internationally, the response was ...

Blucher, Milos

(

University of Canterbury

,

2015

)

Development aid is an important feature of the international system, and the European Union (EU) and its Member States together form the world's largest development aid donor. This research investigates the extent to which ...