The Electric Power Engineering Centre – Power Engineering as a field of excellence in New Zealand
(2004)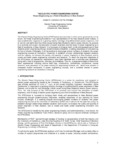 View/Open
Type of Content
Conference Contributions - Other
Publisher
University of Canterbury. Electrical and Computer Engineering.
Collections
Authors
Lawrence, J.,
Bodger, P.S.
show all
Abstract
The Electric Power Engineering Centre (EPECentre) was launched in 2002 and is governed by a trust board, the Power Engineering Excellence Trust, representative of the New Zealand power industry. It was established in response to a growing industry shortage of qualified electric power engineers, and to plan for and administer the critical issues facing New Zealand's electric power industry. Its purpose is to promote and support the education of power engineers and the study of power engineering as a field of excellence in New Zealand. It is focussed on bringing fresh minds and perspectives to New Zealand power engineering through student-industry interaction, enabling awareness of and planning for future industry challenges. It will be working to encourage greater numbers of students into power engineering courses at Canterbury University, to establish stronger relationships between students and the industry, to increase the quality and quantity of power engineers in New Zealand, and to create and foster power engineering innovation and research. To reach the long-term objectives of the EPECentre, all operational requirements have been identified and a business plan developed, along with a host of programmes, activities, and initiatives. Thus far, a large percentage of these have been implemented including various field trips, scholarships, conferences, conventions, market research, work placement in the power industry for engineering students, etc., which have resulted in increased student enrolments in power engineering courses, and a renewed interest in power engineering research at Canterbury University.
Citation
Lawrence, J., Bodger, P.S. (2004) The Electric Power Engineering Centre – Power Engineering as a field of excellence in New Zealand. Brisbane, Australia: Australasian Universities Power Engineering, 26-29 Sep 2004.
This citation is automatically generated and may be unreliable. Use as a guide only.