Constraint-based collaborative environment for learning UML class diagrams
(2006)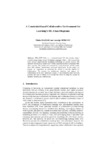 View/Open
Type of Content
Conference Contributions - Published
Publisher
University of Canterbury. Computer Science and Software Engineering.
ISBN
978-3-540-35159-7
Collections
Authors
Baghaei, N.,
Mitrovic, A.
show all
Abstract
COLLECT-UML is a constraint-based ITS that teaches object-oriented design using Unified Modelling Language (UML). UML is easily the most popular object-oriented modelling technology in current practice. We started by developing a single-user ITS that supported students in learning UML class diagrams. The system was evaluated in a real classroom, and the results show that students' performance increased significantly. In this paper, we present our experiences in extending the system to provide support for collaboration. We present the architecture, interface and support for collaboration in the new, multi-user system. A full evaluation study has been planned, the goal of which is to evaluate the effect of using the system on students' learning and collaboration.
Citation
Baghaei, N., Mitrovic, A. (2006) Constraint-based collaborative environment for learning UML class diagrams. Jhongli, Taiwan: 8th International Conference on Intelligent Tutoring Systems, 26-30 Jun 2006. Lecture Notes in Computer Science, 4053, Intelligent Tutoring Systems, 176-186.
This citation is automatically generated and may be unreliable. Use as a guide only.
Keywords
Collect-UML; intelligent tutoring system; object-oriented design