What's in a cost? Comparing economic and public health measures of alcohol's social costs
(2012)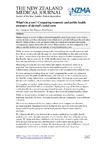 Type of Content
Journal Article
Publisher
University of Canterbury. Department of Economics and Finance
ISSN
1175-8716
Collections
Authors
Crampton, E.
Burgess, M.
Taylor, B.
show all
Abstract
Studies based on a cost of illness method frequently assert large social costs from a variety of risky activities, the harms from which most typically fall upon the risk-taker himself. Many of these costs are inadmissible in a standard economic framework; consequently, figures derived by the cost of illness method are not comparable with other economic notions of cost and are of very limited policy use.
Citation
Crampton, E., Burgess, M., Taylor, B. (2012) What's in a cost? Comparing economic and public health measures of alcohol's social costs. New Zealand Medical Journal, 125(1360), pp. 66-73.
This citation is automatically generated and may be unreliable. Use as a guide only.
Keywords
cost-benefit analysis; health economics; social cost; alcohol; social cost; public health
ANZSRC Fields of Research
38 - Economics::3801 - Applied economics::380108 - Health economics
11 - Medical and Health Sciences::1117 - Public Health and Health Services::111799 - Public Health and Health Services not elsewhere classified
Related items
Showing items related by title, author, creator and subject.
Garrett, N.

;

Schluter, P.J.

;

Schofield, G.

(

University of Canterbury. School of Health Sciences

,

2012

)

BACKGROUND: A minority of adults in developed countries engage in sufficient physical activity (PA) to achieve health benefits. This study aims to identify modifiable perceived resources and barriers to PA among New Zealand ...

Wilkins E

;

Radley D

;

Morris M

;

Hobbs M

;

Christensen A

;

Marwa WL

;

Morrin A

;

Griffiths C

(

Elsevier BV

,

2019

)

© 2019 The Authors This systematic review quantifies methods used to measure the 'retail food environment' (RFE), appraises the quality of methodological reporting, and examines associations with obesity, accounting for ...

Heckert, K.A.

;

Bagshaw, S.

;

Fursman, L.

;

Kipa, M.

;

Wilson, M.

;

Braiden, V.

;

Ahuriri-Driscoll, A

(

University of Canterbury. Health Sciences Centre

,

2001

)

Aims. To elicit acceptability of HIV screening during pregnancy in women of reproductive age in Christchurch. Methods. In-depth face-to-face interviews were conducted with women of reproductive age recruited from ...