Towards integration of adaptive educational systems: mapping domain models to ontologies
(2008)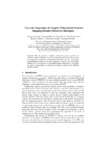 Type of Content
Conference Contributions - Published
Publisher
University of Canterbury. Computer Science and Software Engineering.
University of Canterbury. UC Opportunity.
Collections
Authors
Sosnovsky, S.,
Mitrovic, A.,
Lee, D.,
Brusilovsky, P.,
Yudelson, M.,
Brusilovsky, V.,
Sharma, D.
show all
Abstract
With the growth of adaptive educational systems available for students, semantic integration of user modeling information from these systems is emerging into an important practical task. Ontologies can serve as the major representational framework for such integration. However, not all adaptive systems rely on ontologies for representing domain knowledge. In this paper, we report an experiment on integration of domain models of two different adaptive systems.
Citation
Sosnovsky, S., Mitrovic, A., Lee, D., Brusilovsky, P., Yudelson, M., Brusilovsky, V., and Sharma, D. (2008) Towards integration of adaptive educational systems: mapping domain models to ontologies. Montreal, Canada: 6th International Workshop on Ontologies and Semantic Web for E-Learning (SWEL'2008), 23-27 Jun 2008. 60-64.
This citation is automatically generated and may be unreliable. Use as a guide only.