In Vitro Assessment of the Corrosion Protection of Biomimetic Calcium Phosphate Coatings on Magnesium
(2012)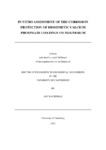 Type of Content
Theses / Dissertations
Thesis Discipline
Mechanical Engineering
Degree Name
Doctor of Philosophy
Publisher
University of Canterbury. Mechanical Engineering
Collections
Abstract
The use of magnesium for degradable implants can fill the need for temporary, load bearing, metallic orthopaedic implants without the risks and expense of further surgeries once the bone has healed. Mg is non toxic and biocompatible, but the corrosion rate in the body is too high. The rate will need to be moderated if these implants are to be made clinically useful. A review of common orthopaedic coatings found that the biomimetic calcium phosphate coating process meets the criteria for a good coating. This process was designed for permanent implants, and its corrosion protection properties were unknown on Mg. The research presented here evaluates and optimizes aspects of the corrosion protection of biomimetic coatings in vitro. To accurately identify the corrosion mechanisms of such coatings, the in vitro behaviour of several common simulated body fluids and buffer systems was evaluated. The deposition of biomimetic coatings on Mg was compared to Ti. The effect of common surface treatments on the deposition, composition, and ultimate corrosion protection was identified in order to understand the corrosion properties of these coatings. Following the results, the biomimetic method was modified to optimize the protection by reducing the defects. The corrosion properties of these modified coatings were assessed in vitro. The limitation of the biomimetic coatings was found to be in all cases sensitive to the defects present in the coating. While these could be minimized, they were not eliminated. This led to unfavourable corrosion properties. To solve this problem, a novel treatment was developed to give the biomimetic coatings self-healing properties. This treatment promoted local repair in the coating at the defects, greatly improving the corrosion properties. The in vitro model was increased in complexity by adding first amino acids, then proteins. The corrosion behaviour of the coatings was compared in these solutions to understand the effects of these molecules. The data gathered will help to build a better model of in vivo corrosion, and allow better prediction of the performance of biomimetic coatings for corrosion resistance.
Keywords
magnesium; biomimetic coatings; corrosion; in vitro testing
Rights
Copyright Jay Waterman
Related items
Showing items related by title, author, creator and subject.
Kirkland, Nicholas Travis

(

University of Canterbury. Mechanical Engineering

,

2011

)

Magnesium (Mg) and its alloys provide numerous unique benefits as potential resorptive biomaterials and present the very real possibility of replacing current metallic implant materials in a variety of roles. However, ...

Dias G

;

Joshi A

;

Staiger, Mark

(

2021

)

Metallic biomedical implants based on magnesium, zinc and iron alloys have emerged as bioresorbable alternatives to permanent orthopaedic implants over the last two decades. The corrosion rate of biodegradable metals ...

Rodgers GW

;

Chase, Geoff

;

Causse R

;

Chanchi J

;

MacRae GA

(

2017

)

It has become increasingly necessary to develop systems to decrease the impact of earthquakes by protecting people and mitigating resulting structural and economic damage. The Asymmetrical Friction Connection (AFC) or ...