Investigating the temporal transferability of transport modal choice models: an approach based on GIS database
(2007)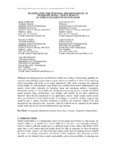 View/Open
Type of Content
Conference Contributions - Published
Publisher
University of Canterbury. Civil and Natural Resources Engineering.
Collections
Authors
Andrade, K.,
Kagaya, S.,
Uchida, K.,
Dantas, A.,
Nicholson, A.
show all
Abstract
Developing precise travel behavior models and testing its forecasting capability are essential when planning transportation systems. However, emphasis is observed in estimating while forecasting still needs to be better understood. This study examines the temporal transferability of a Multinomial Logit Model and a hybrid Neuro-Fuzzy Multinomial Logit model, which differ primarily by including linear and non-linear utilities. Geographic Information System is successfully used during the forecasting process. Overall, the hybrid model presents better performance, even though both models do not show satisfactory behavior when directly transferred to the application context. Small sample model results show good behavior of the hybrid model. Accordingly, a sensitivity analysis suggests this model is able to capture travelers' sensitivity to parking cost variations, which is not well described by the classical model. Travelers' behavior could be better explained by the hybrid model rather than by the classical Multinomial Logit structure.
Citation
Andrade, K., Kagaya, S., Uchida, K., Dantas, A., Nicholson, A. (2007) Investigating the temporal transferability of transport modal choice models: an approach based on GIS database. Dalian, China: 7th Eastern Asia Society for Transportation Studies (EASTS) Conference, 24-27 Sep 2007. Proceedings of the Eastern Asia Society for Transportation Studies, 6, 80.
This citation is automatically generated and may be unreliable. Use as a guide only.
Keywords
Geographic Information System; neuro-fuzzy systems; temporal transferability