Boundary element methods in elastography: a first explorative study
(2007)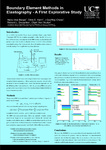 Type of Content
Conference Contributions - Published
Publisher
University of Canterbury. College of Engineering.
University of Canterbury. Mathematics and Statistics.
University of Canterbury. Mechanical Engineering.
Collections
Authors
Berger, H-U.,
Hann, C.E.,
Chase, J.G.,
Broughton, R.L.,
Van Houten, E.E.W.
show all
Abstract
Next to Magnet Resonance Elastography and Ultrasound Elastography, Digital Image Elasto-Tomography (DIET) is a new imaging-technique, using only motion data available on the boundary, to reconstruct mechanical material parameters, i.e. the interior sti.ness of a domain, in order to diagnose tissue related disease such as breast cancer. Where classically Finite Element Methods have been employed to solve this inverse problem, this paper explores a new approach to the reconstruction of mechanical material properties of tissue and tissue defects by the use of Boundary Element Methods (BEM). Using the Boundary Integral Equations for Linear Elasticity in two dimensions within a Conjugate Gradients based inverse solver, material properties of healthy and malicious tissue could be determined from displacement data on the boundary. First simulation results are presented.
Citation
Berger, H-U., Hann, C.E., Chase, J.G., Broughton, R.L., Van Houten, E.E.W. (2007) Boundary element methods in elastography: a first explorative study. San Diego, CA, USA: SPIE Medical Imaging, 17-22 Feb 2007. Proceedings of SPIE, 6511.
This citation is automatically generated and may be unreliable. Use as a guide only.
Keywords
boundary element methods; inverse problem; breast cancer; elastography; mechanical property reconstruction; computational methods