The sum is greater than the parts: Understanding teacher educators' epistemological shifts through dual (interpretive and post-structural) meta-analyses
(2012)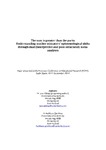 View/Open
Publisher
University of Canterbury. School of Maori, Social and Cultural Studies in Education
Collections
Abstract
This paper describes how meta-­ethnography was used to provide an in-­depth analysis across a range of research projects undertaken in a particular study relating to teacher educators' shifting understandings of knowledge and learning. This research was undertaken in the context of teacher education at the University of Canterbury, Aotearoa/New Zealand. A unique part of the meta-­ethnography was the use of dual analyses, from two different theoretical perspectives; specifically, from interpretive and post-­structural positions. The interpretive analysis was concerned with making sense of how the participating teacher educators made sense of their lived experiences, focusing on teacher educators' narratives of issues raised in shifting conceptualisations of knowledge and learning. The post-­structural analysis was focused on situating the teacher educators' experiences within broader social and discursive contexts. Particular emphasis was placed on power relations in knowledge production and how participating teacher educators used the project strategically as a way to re-­signify discursive understandings of knowing and learning. It is contended that the use of dual analyses enriched the meta-­ethnography so that the sum was greater than the parts. The complementary insights and more nuanced findings provided by dual theoretical analyses enabled the researchers to engage more fully with the complexities of understanding teacher educators' epistemological shifts.
Citation
Abbiss, J., Quinlivan, K. (2012) The sum is greater than the parts: Understanding teacher educators' epistemological shifts through dual (interpretive and post-structural) meta-analyses. Cadiz, Spain: The European Conference on Educational Research (ECER), 18-21 Sep 2012.
This citation is automatically generated and may be unreliable. Use as a guide only.
Keywords
teacher education; meta-­ethnography; complementary theories and methods
ANZSRC Fields of Research
13 - Education::1303 - Specialist Studies in Education::130313 - Teacher Education and Professional Development of Educators
Related items
Showing items related by title, author, creator and subject.
Fickel, L.H.

(

University of Canterbury. School of Teacher Education

,

2014

)

This paper considers the changes in the expectations of initial teacher education programmes in New Zealand. Current challenges are reflected in the priorities outlined by both the New Zealand ...

Stark R

;

Fickel LH

(

2015

)

Despite the existence of a treaty (Tiriti o Waitangi/Treaty of Waitangi, 1840) in Aotearoa New Zealand that promised the indigenous Māori that their language and culture would be protected, these rights to autonomy and ...

North C

(

Informa UK Limited

,

2017

)

© 2016 Association for Physical Education. Background: School teachers who become teacher educators (TEs) are rarely prepared for the different pedagogies that teacher education requires. One pedagogical difference is the ...