"Going faster than speed" : Leigh Davis, 1983-1985
(2003)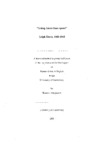 View/Open
Type of Content
Theses / Dissertations
Degree Name
Master of Arts
Publisher
University of Canterbury. English
Collections
Abstract
This thesis is concerned with Leigh Davis's literary projects of the mid-1980s: And magazine and Willy's Gazette. These projects sought to effect a fundamental change in New Zealand's literary culture through the introduction of critical theory. This programme for literary reform coincided with the initiation of the monetarist reforms of New Zealand's economy. Davis had a professional involvement with these reforms, as he worked in Treasury between 1980 and 1985. This thesis proposes to investigate whether or not a connection can be demonstrated between poststructuralism and neoliberal theory, using Davis as a test case. Chapter one situates this thesis in relation to the discourse about the political implications of poststructuralism, introducing the key critical figures to whom I appeal. This chapter goes on to address the historical situation of Davis's work, discussing the cultural and political environment in New Zealand during the early 1980s, and providing a detailed anaylsis of a Treasury briefing paper on which Davis worked. The chapter concludes by considering Davis's dual position in the political centre and on the aesthetic margins. Chapter two addresses Davis's critical writing in And, considering the influence of manifestos of the modernist avant-garde on his work, and his positioning of his own project in relation to poets Allen Curnow and Ian Wedde. Moving on to Davis's enthusiastic review of the poetry of Roger Horrocks, this chapter also considers the influence of the L=A=N=G=U=A=G=E movement on Davis's poetics. Closer examination of Davis's poetics in undertaken in chapter three, which considers the significance of speed and history in Willy's Gazette.
Rights
Copyright Emma J. Fergusson
Related items
Showing items related by title, author, creator and subject.
Matheson, Troy

(

University of Canterbury. Department of Economics

,

2002

)

We analyse the divergence in productivity between Australia and New Zealand, with a special emphasis on quantifying the industry-level contributors to the divergence and on whether the countries have comparable growth ...

Davis, Keryn

(

University of Canterbury. School of Educational Studies and Human Development

,

2006

)

This dissertation discusses how a team of teachers understand and practise assessment in the context of an early childhood centre. The early childhood sector has experienced raised expectations in terms of formal assessment ...

Davies, Emma Louise

(

University of Canterbury. Communication Disorders

,

2008

)

The purpose of this study was to evaluate the performance of adolescents with traumatic brain injury on a written persuasive discourse task. Nine adolescents with TBI (mean age = 14 years 4 months) and nine age, gender and ...