Automating the Layout of Image for Large, Shared Displays
(2011)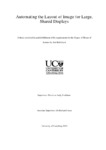 Type of Content
Theses / Dissertations
Thesis Discipline
Computer Science
Degree Name
Master of Science
Publisher
University of Canterbury. Computer Science and Software Engineering
Collections
Authors
McDonald, Benjamin Thomas
show all
Abstract
Advances in display technology are increasing screen size and reducing their costs. Large, wall sized screens can be found in malls, public squares and office buildings displaying photos, videos, advertising, news and announcements. The audience of large displays in public, urban environments can be constantly changing and in this thesis we investigate applying automated layout algorithms to large displays to adapt layouts to changing audiences.
Abstract We review current automated layouts, discuss new challenges when applying automated layouts to large screens and present our design space for automated layouts. We investigate the human factors (such as attention, vision, and perception) and the system factors (such as display space and input devices) involved in automated layout for large displays.
Abstract This thesis presents the Viewer Aware Layout (VAL) system. VAL is a system that automates the layout of images on a large display and is designed to allow many users to collectively view images. VAL, and features of VAL, are tested for engagement and it is found that there is a significant increase in agreement by users with statements describing an engaging experience when VAL is applied to an image layout. This thesis concludes with a summary of the research contributions and proposes future areas of work.
Keywords
HCI; Large Displays; Layout
Rights
Copyright Benjamin Thomas McDonald