Working memory and attention in alcoholic Korsakoff's Syndrome : A pilot study
(1995)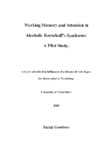 View/Open
Type of Content
Theses / Dissertations
Degree Name
Master of Arts
Publisher
University of Canterbury. Psychology
Collections
Abstract
Two males with a suspected diagnosis of Alcoholic Korsakoff's Syndrome (AKS) were recruited along with two age, education-matched alcoholic controls and two comparable non-alcoholic controls. The AKS subjects were recruited on the basis of a history of alcohol abuse and anecdotal evidence to suggest memory impairment. Psychometric testing (WAIS-R, WMS-R and the NART) provided evidence to suggest that one subject was probably AKS while in the other the diagnosis was unlikely. Divided attention within the context of Baddeley's (1992) model of working memory was investigated with a modified Brown-Peterson task, in which a range of distracters were used. A task that involves sustained attention, Inspection Time, was also employed to assess whether the alcoholic subjects had a global attention impairment. The release from proactive interference task was employed as it is suggested that the Brown-Peterson impairments and failure to release from proactive interference seen in some cognitively impaired alcoholics, particularly AKS patients are due to a common underlying pathology (involving frontal lobe dysfunction). While the sample was too small to make any strong conclusions, it is suggested that cognitive dysfunction as a result of alcohol abuse, and not AKS per se, may be a factor in the impaired performance in the Brown-Peterson task. Overall performance in the release from PI was poor in the two suspected AKS subjects. The present study also highlights problems obtaining "clinically diagnosed" AKS subjects and sufficient numbers to warrant group-based experimental work.
Rights
Copyright Sarah Goodson
Related items
Showing items related by title, author, creator and subject.
Wang, Grace Xiaoni

(

University of Canterbury. Psychology

,

2014

)

Previous neurophysiological and behavioural studies have shown that attention can be guided by the contents of working memory (WM), and that such guidance can be involuntary even when it is detrimental to the task at hand. ...

The role of working memory in visual selective attention was investigated. Participants ignored distractor faces, superimposed on target celebrity names, under low or high memory loads. Interference effects from famous ...

Jiang, Siena

(

University of Canterbury

,

2016

)

Tinnitus is the perception of sounds heard in the ears or head in the absence of an external sound source (Luck, 2005; Stephens, 1987). Most individuals with tinnitus are able to habituate to the tinnitus signal and notice ...