Safer Cycling in New Zealand: Enabling Cycling Organisations to Deliver Cycle Safety Programmes
(2012)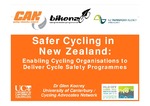 Type of Content
Conference Contributions - Other
Publisher
University of Canterbury. Civil and Natural Resources Engineering
Collections
Authors
Niquidet-Western, J.
Koorey, Glen
show all
Abstract
Following a dreadful week in November 2010, in which five cyclists were killed on New Zealand (NZ) roads, the NZ Transport Agency (NZTA) commissioned BikeNZ and the Cycling Advocates Network (CAN) to jointly undertake an 18-month "Safer Cycling" programme with three main projects:
- Cycle Skills Instructor Training: Historically, cycle skills instruction in NZ to children and other groups has been rather ad-hoc and varying in its content. This project is developing consistent training resources for Cycle Skills Instructors, supported by ongoing mentoring. A series of training courses are providing the necessary competencies to enable national certification for Instructors.
- Road User Workshops: Based on CAN's highly successful "Being Cycle Aware" bus driver workshops, this project is delivering workshops that put cyclists alongside truck and bus drivers in a practical setting, so that all groups can understand how to safely co-exist on our roads. Audience-specific training materials have been developed and facilitators have been trained to deliver these workshops nationwide. Other road user groups are also being identified for future training.
- "Share the Road" campaigns: Traditional advertising methods for promoting better road user behaviour have been limited in their success in NZ. This project is developing nationwide "share the road" campaign tools that depart from traditional methods and instead aim to get road users to empathise and engage with their fellow road users and modify their behaviour accordingly. Research on previous "Share the Road" campaigns and workshops/engagement with key road user groups have been used to develop pilot campaigns at particular problem areas. These initiatives are providing resources that can be used elsewhere to help all road users to better interact together on our roads.
This presentation explains the development of this project and some key highlights. In particular, it focuses on some of the methods that have been used to engage with motoring populations and get their support and empathy for a safer cycling environment on the road. The significance in having the main national land transport agency empowering the main national cycling organisations to take the lead in cycle safety outcomes is also discussed, as well as proposed future work in this area.
Citation
Koorey, G., Niquidet-Western, J. (2012) Safer Cycling in New Zealand: Enabling Cycling Organisations to Deliver Cycle Safety Programmes. Vancouver, Canada: Velo-City Global 2012, 26-29 Jun 2012.
This citation is automatically generated and may be unreliable. Use as a guide only.
ANZSRC Fields of Research
40 - Engineering::4005 - Civil engineering::400512 - Transport engineering
12 - Built Environment and Design::1205 - Urban and Regional Planning::120506 - Transport Planning
Related items
Showing items related by title, author, creator and subject.
Parsons, J.

;

Koorey, Glen

(

University of Canterbury. Civil and Natural Resources Engineering

,

2013

)

Marked on-road cycle lanes are a relatively inexpensive means of providing for cycling; however, their use in New Zealand has been questioned both in terms of their safety and their effectiveness in attracting more people ...

Koorey, Glen

(

University of Canterbury. Civil and Natural Resources Engineering

,

2013

)

There is a lot of interest at present in encouraging cycling in New Zealand, but also a lot of concern about its perceived safety. Is it possible to reconcile these issues? Evidence here and overseas shows that it is ...

Koorey, Glen

(

University of Canterbury. Civil and Natural Resources Engineering

,

2014

)

Following five cycling deaths during November 2010, the Chief Coroner announced a national Inquiry to identify any common trends or information that could prevent a reoccurrence of such tragedies. To help inform this ...