Student teachers experiences of situated learning within the primary school classroom
(2006)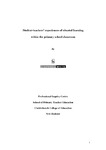 Type of Content
Journal Article
Publisher
University of Canterbury. School of Educational Studies and Human Development.
ISSN
1832-2050
Collections
Abstract
This paper evaluates the perceptions of a group of student-teachers while they complete one of their 6 professional teaching practices. It is described through the reflective practices of a lecturer who visits these students as part of her role in teaching Professional Studies and Practice, and through her interactions with those students when she debriefs them when they return to College. This paper highlights the experiences of student teachers as they engage in professional situated learning within the contemporary workplace of primary school classrooms. The significance of this evaluation is that it shows both the positive aspects and the difficulties students can have in trying to "break in" to a new community of practice and a new classroom "workplace" as they move from novice to expert over their 3 years of training.
Citation
White, Stephanie (2006) Student teachers experiences of situated learning within the primary school classroom. Studies in learning, Evaluation, Innovation and Development, 3(2, Reflective Practices), pp. 1-11.
This citation is automatically generated and may be unreliable. Use as a guide only.
Keywords
reflective practices
Related items
Showing items related by title, author, creator and subject.
Davies, Meagan

(

University of Canterbury

,

2016

)

Inclusion is a philosophical approach to education which proposes that all students have the right to attend their local school. There is currently little research on parent, teacher and student views towards the inclusion ...

Widayanti, Costrie Ganes

(

University of Canterbury

,

2020

)

This ethnographic case study research is concerned with learning disabilities in Indonesia. My interest is in understanding how a particular group of students are defined by teachers and how teachers' perceptions of students ...

Dabner, N.

(

University of Canterbury. School of Teacher Education

,

2015

)

Effective beginning teachers require the digital citizenship and digital literacy skills that will enable them to participate ethically and safely, and teach effectively, in complex, digitally saturated classroom learning ...