Within a context: the benefits of teaching introductory environmental engineering with a detailed case study
(1996)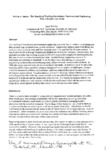 View/Open
Type of Content
Conference Contributions - Other
Publisher
University of Canterbury. Civil and Natural Resources Engineering
Collections
Abstract
The teaching of introductory environmental engineering can easily lead to students complaining that they are receiving too much broad, general instruction. Engineering students, more than liberal arts students, often require an early and clear demonstration of the applicability of course content. A way to provide this is through frequent and detailed case studies and examples. Unfortunately, this approach can either take too long or make it difficult to explain the complicated interdependencies that arise in real-world environmental problems. An introductory engineering course at the University of Canterbury is described. It has the objectives of introducing environmental engineering fundamentals, systems/management, and professional communication methods. In 1996, the course used one local site as a re-occuring case study. A field exercise at the site at the beginning of the course provided a common background for the students to build upon. Lecture examples, homework problems, and test/exam questions continued the use of the case study to develop the course content. Complex analyses, such as for the proper balance between recreational and ecological benefits of the bay, were more able to be understood by the students because of their familiarity with the site and the small-scale of the problem. It is hoped that students will see the applicability of the case-study analysis and develop the confidence to deal with the more serious, larger-scale, environmental problems they would face in their professional careers.
Citation
Milke, M.W. (1996) Within a context: the benefits of teaching introductory environmental engineering with a detailed case study. Sunderland, U.K.: Environmental Training in Engineering Education, November 1996. 369-380.
This citation is automatically generated and may be unreliable. Use as a guide only.
ANZSRC Fields of Research
09 - Engineering::0907 - Environmental Engineering::090799 - Environmental Engineering not elsewhere classified
13 - Education::1302 - Curriculum and Pedagogy::130212 - Science, Technology and Engineering Curriculum and Pedagogy