Model predictive glycaemic regulation in critical illness using insulin and nutrition input: a pilot study
(2006)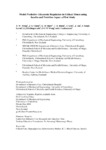 View/Open
Type of Content
Journal Article
Publisher
University of Canterbury. Chemical and Process Engineering.
University of Canterbury. Mechanical Engineering.
ISSN
1350-4533
Collections
Authors
Wong, X-W.,
Chase, J.G.,
Shaw, G.M.,
Hann, C.E.,
Lotz, T.,
Lin, J.,
Singh-Levett, I.,
Hollingsworth, L.J.,
Wong, O.S.W.,
Andreassen, S.
show all
Abstract
This paper develops and presents a pilot study of a long-term controller for safe regulation of glycaemia under elevated insulin resistance and glucose intolerance in critically ill patients by modulating enteral nutrition inputs in addition to conventional basal-bolus intravenous insulin therapy. Clinical proof-of-concept pilot trials of the algorithm are performed which show the algorithm adaptability to time-varying intraas well as inter-patient variability in condition while requiring relatively infrequent glucose measurement. This research is a step towards randomized, comparative cohort studies of clinical outcomes using the developed protocol. Previous blood glucose control research includes controlled experiments in insulin infusion by Hovorka et al. [26], Chee et al. [27], and Chase et al. [18, 28]. Adaptive bolus-based control using insulin-alone by Chase et al. [18], is the basis of this work. The primary difference in this research is the improvement in control under elevated insulin resistance by modulation of nutritional support in addition to insulin input
Citation
Wong, X.W., Chase, J.G., Shaw, G.M., Hann, C.E., Lotz, T., Lin, J., Singh-Levett, I., Hollingsworth, L.J., Wong, O.S.W., Andreassen, S. (2006) Model predictive glycaemic regulation in critical illness using insulin and nutrition input: a pilot study. Medical Engineering and Physics, 28(7), pp. 665-681.
This citation is automatically generated and may be unreliable. Use as a guide only.
Keywords
Critical care; Hyperglycemia; Retrospective studies; ICU; Blood glucose; Insulin