PEEP in mechanically ventilated patients: a clinical proof of concept
(2011)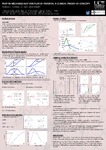 Type of Content
Conference Contributions - Other
Publisher
University of Canterbury. Mechanical Engineering
Collections
Authors
Sundaresan, A.,
Shaw, G.M.,
Chiew, Y.S.,
Chase, J.G.
show all
Abstract
The optimal level of positive end-expiratory pressure (PEEP) is widely debated in ARDS. Current methods of selecting PEEP do not provide unique patient-specific solutions. Model-based methods offer a novel way of using non-invasive pressure-volume (PV) measurements to estimate patient recruitability. This paper examines the clinical utility of such models in pilot clinical trials to assist therapy, optimise patient-specific PEEP, and assess the disease state and response over time. Ten patients with ALI or ARDS were given incremental PEEP (increments: 5cmH2O; maximum PIP: 45cmH2O) under volume controlled ventilation. Inspiratory and expiratory breath holds were performed to measure airway resistance and auto-PEEP. Data were fitted to a recruitment model. PEEP was optimised based on model-based: 1) threshold opening pressures (TOP); 2) threshold closing pressures (TCP); and 3) net recruitment. ARDS status was assessed by model parameters capturing recruitment and compliance over time. Median model fitting error for inflation and deflation was 2.8% and 1.02%. All patients experienced auto-PEEP. Model-based optimal PEEP had a range of [5, 27], [10, 25] and [10, 30]cmH2O for the TOP, TCP and net recruitment metrics and was greater than clinically selected. Model-identified patient-specific compliance changed over time with patient condition, and was associated with a significant change in model-selected PEEP, indicating the model's utility in tracking disease status. The model-based method presented in this paper provides a unique, non-invasive method to optimise patient-specific PEEP and assess disease state over time.
Citation
Sundaresan, A., Shaw, G.M., Chiew, Y.S. and Chase, J.G. (2011) PEEP in mechanically ventilated patients: a clinical proof of concept. Taupo, New Zealand: Australia-New Zealand Intensive Care Society (ANZICS) ASM, 31 Mar-1 Apr 2011.
This citation is automatically generated and may be unreliable. Use as a guide only.
ANZSRC Fields of Research
09 - Engineering::0903 - Biomedical Engineering::090304 - Medical Devices
11 - Medical and Health Sciences::1102 - Cardiovascular Medicine and Haematology::110203 - Respiratory Diseases
11 - Medical and Health Sciences::1103 - Clinical Sciences::110310 - Intensive Care