Crowd characteristics and egress at stadia
(2004)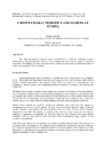 Type of Content
Conference Contributions - Other
Publisher
University of Canterbury. Civil and Natural Resources Engineering.
Collections
Authors
Hoskin, K.,
Spearpoint, M.J.
show all
Abstract
This paper investigates emergency egress considerations of stadia by examining occupant characteristics and discussing how effective crowd management can be used to improve evacuation procedures. The findings are based on recent research on fire protection and evacuation procedures of stadia venues primarily in New Zealand.
Citation
Hoskin, K. and Spearpoint, M.J. (2004) Crowd characteristics and egress at stadia. Belfast, Northern Ireland: 3rd International Conference on Human Behaviour in Fire, 1-3 Sep 2004.
This citation is automatically generated and may be unreliable. Use as a guide only.