Goliath's apprentice: The Royal New Zealand Air Force and the United States in the Pacific war, 1941-1945
(1999)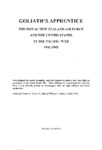 View/Open
Type of Content
Theses / Dissertations
Thesis Discipline
History
Degree Name
Doctor of Philosophy
Publisher
University of Canterbury. History
Collections
Abstract
The official history of the Royal New Zealand Air Force estimates that of the 55,000 New Zealanders who joined the air force during the Second World War, nearly 15,000 served in the Pacific theatre at some time. Rather than try to retell the tactical or operational history of this campaign, this study attempts instead to provide a much-needed political, diplomatic and command background to RNZAF operations in the Pacific. This is done through an examination of New Zealand service and government department archives, and relevant Australian records. For the first time, a thorough examination has also been made of United States archives to explore American opinion of New Zealand's effort in the Pacific. Answers will be sought as to why New Zealand felt the need to form such a relatively large air force for service in the Pacific and whether or not this was an appropriate or even successful course of action for the country to take. Strategic objectives should, after all, be the essence of national military contributions and as far as these are known or may be discovered by the historian, offer a useful mechanism by which a particular effort or campaign may be studied, interpreted or evaluated. In April1 943, Air Commodore Arthur Nevill wrote to the New Zealand Chief of Air Staff, Air Vice-Marshal Leonard Isitt, that he was concerned about the RNZAF's lack of attention to its war records. It appeared to Nevill "a standing disgrace" that while New Zealand's 2 Division had had a war archives section for some years, the RNZAF had no similar organisation.
Rights
Copyright Brian J. Hewson
Related items
Showing items related by title, author, creator and subject.
Cording, Rex Frederick

(

University of Canterbury. History

,

1992

)

The object proposed in this study is to consider both the activities and the importance of the Pathfinder Force, Royal Air Force, in the Second World War. Their story has a much earlier beginning than 15 August 1942 when ...

Morris, Paul Arthur Haydn

(

University of Canterbury. Humanities

,

2013

)

Public memory of psychological casualties from the Great War and the Second World War has recalled men who were shunned and scorned by society and their peers. Using letters and diaries written contemporaneously within the ...

This thesis considers the way in which reliance on exports of temperate agricultural commodities presents distinctive difficulties to the successful pursuit of New Zealand's interests in the world and the way these ...