Diseases of Containment: Leprosy, Syphillis, the law and the construction of the diseased body in Colonial South India 1860-1900.
(2010)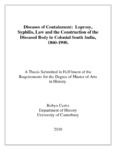 View/Open
Type of Content
Theses / Dissertations
Thesis Discipline
History
Degree Name
Master of Arts
Publisher
University of Canterbury. Humanities
Collections
Abstract
Between 1860 and 1900 the British Government in India – along with many other areas of the world – enacted numerous legal acts which superficially sought to prevent or control the transmission of disease. The implementation of legislative efforts attempted to identify and control subcultures that were marked as transmitters of infection. Thus legislation combined medical, legal and cultural concepts which formed the framework for the construction of societal control of infections.
The Madras Presidency offers two tangible examples of this association of medicine, law and society. The Cantonment Regulations (1864), which were the origin of the Contagious Diseases Act (1868), were introduced to control venereal disease, while the Lepers Act (1898) was directed at leprosy sufferers. These laws embodied the official response to two diseases which attracted significant attention in Victorian culture. Evidenced within these statutes are the cultural markers of the society which engendered them. This thesis compares these two acts and explores how these acts were the product of similar cultural mores. A thematic approach has been adopted to examine how these acts are consequently coloured by characterisations of gender, race, class, colonialism, politics and morality.
Leprosy and syphilis are biologically unrelated diseases. Prior to the twentieth century however, difficulties in diagnosis saw these two diseases often confused with one another. Additionally, these diseases were deeply stigmatizing and carried an imagined significance out of proportion to their biological impact. This thesis analyses the way in which this legislation reified the corporeal form of sufferers. A visibly diseased body was constructed, which then allowed authorities to focus their efforts on the control of specifically identified groups, segregate them and render the visible invisible.
As a consequence of these pieces of legislation, marginalised groups were stigmatised as the visible carriers of disease and subjected to governmental restrictions by statutes that were embedded with the culture mores of the British in India, providing an illustration not so much of sanitary control but social control.
Keywords
Leprosy; Syphillis; Colonial; South India; Madras; Medicine; Disease
Rights
Copyright Robyn Mary Curtis
Related items
Showing items related by title, author, creator and subject.
Akeli, Safua

(

University of Canterbury. History

,

2007

)

This thesis investigates the colonial organisation of leprosy care in Samoa from 1890 to 1922. It begins with the examination of the nineteenth century "Three Power" governments of Germany, United States of America and ...

McMenamin, Dorothy

(

University of Canterbury. School of Humanities

,

2009

)

The oral histories utilized by this research reveal the experiences of those who suffered leprosy in five South Pacific nations, Fiji, New Caledonia, Samoa, Tonga and Vanuatu. This thesis explores how leprosy and its ...

Aiyer, Subramaniam

(

University of Canterbury. School of Culture, Literature and Society

,

2007

)

In Singapore the state defines the parameters of 'ethnic' identity on the basis of the ideology of multiracialism, in which any particular 'ethnic' identity is subsumed under national identity and permitted expression in ...