Computer control and monitoring of psychrometric conditions.
(2000)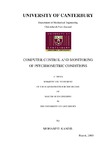 View/Open
Type of Content
Theses / Dissertations
Thesis Discipline
Mechanical Engineering
Degree Name
Master of Engineering
Publisher
University of Canterbury. Mechanical Engineering
Collections
Abstract
This report describes a project undertaken to monitor and control the different air states in an air conditioning plant. From previous equipment purchases and development work, the Department of Mechanical Engineering in Canterbury University has a Hilton® A770 air conditioning rig for demonstrating the basic psychrometric processes, and an environmental control chamber for providing any particular 'outside' air state. In this project a model 'building' has been installed inside the environmental chamber to simulate an inside air-state of a building and, has been interconnected to the Hilton rig to supply and condition the air (to the model building) as required. The supplied air state to the model building is controlled by means of the different air conditioning components installed in the Hilton rig such as a preheater, steam generator, refrigerated cooling coil, and a reheater. In turn, the Hilton rig has been modified to use a controlled air state, drawn from the environmental chamber, to simulate winter, summer or any other supply state to the model which is acting as a space load for the Hilton rig. Data acquisition electronics such as sensors, multiplexers and signal conditioners have been installed in the system to manipulate the large amounts of data on real time. Provision of real time display of the values being measured is updated after each sample through a software program written for Windows95®, with a 3-D graphical user interface and other many enhancements. An important feature of this software is that the different air conditioning processes can be displayed on a linked on-screen psychrometric chart developed in the Department of Mechanical Engineering, which can be printed out. Overall, the facility represents, on a much-reduced scale, a building and its air conditioning system operating within an artificially created and controlled outdoor environment. And, using a personal computer, psychrometric conditions are monitored and controlled; the energy transfers are verified; and the different processes are displayed on a psychrometric chart.
Rights
Copyright Mohamed Kandil