Manipulator control using real time extensions for Windows NT.
(2001)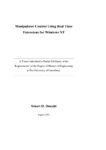 View/Open
Type of Content
Theses / Dissertations
Thesis Discipline
Mechanical Engineering
Degree Name
Master of Engineering
Publisher
University of Canterbury. Mechanical Engineering
Collections
Abstract
A large hydraulic Unimate 2000B robot was donated to the University of Canterbury by Industrial Research Ltd. Christchurch. The original point-to-point control system was spread across 8 A3 size large circuit boards. A desktop personal computer running Microsoft Windows NT on a VenturCom RTX kernel is used with a FPGA and custom A5 sized circuit board to replace the original system with path control. VenturCom's Real Time extensions to the NT operating produced satisfactory Real Time operation for controlling the hydraulic manipulator, with a worst case interrupt latency of 27μs on a 233MHz Pentium II, and interrupt rates of up to 6kHz. Full path control via a graphical user interface has been developed to provide the Robot with greater flexibility than was available with the original point-to-point control system. A PI controller was used for the control algorithm, with the tuning constants found by using frequency response analysis. This type of controller was found to work to a reasonable level of accuracy, although further investigation into an adaptive model controller could perhaps provide better performance.
Rights
Copyright Stuart Duncan Donald