Six degree of freedom joystick.
(2003)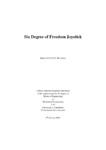 View/Open
Type of Content
Theses / Dissertations
Thesis Discipline
Mechanical Engineering
Degree Name
Master of Engineering
Publisher
University of Canterbury. Mechanical Engineering
Collections
Abstract
Industrial robotics concentrates on developing automated alternatives to human function. Most of the equipment is controlled by means of joystick. Through a joystick input, a robotic arm can be guided through the trajectories to accomplish complex manipulation tasks for its user. Nevertheless, conventional joysticks are mainly two dimensional input devices such as mouse or joystick with additional buttons. Hence it is necessary to design and build a more intuitive and user-friendly joystick model. This thesis aims at designing and building a six degree of freedom (DOF) joystick. Different designs are reviewed in the beginning of the thesis, the final prototype is proposed by refining the different designs. Structural analysis of the model is performed and verified using finite element software ANSYS and PATRAN. The prototype is tested to model the movement of the wire strips when various forces are applied. Preliminary test results are obtained and explained.
Rights
Copyright Simon Yi Ying Chau