Dynamic analysis of an optical MEMS device.
(2003)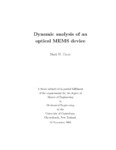 View/Open
Type of Content
Theses / Dissertations
Thesis Discipline
Mechanical Engineering
Degree Name
Master of Engineering
Publisher
University of Canterbury. Mechanical Engineering
Collections
Abstract
This thesis formulates, implements and validates an integrated framework for analysing Micro-Electro-Mechanical-Systems (MEMS) devices including non-linear electrostatic loading, large deflections, structural contact and dynamic behaviours. Utilizing the framework developed enables the simulation of electrostaticallly actuated thin film bifurcating MEMS devices, with specific application to Eastman Kodak's conformal Grating Electro Mechanical System (GEMS) device. The resulting tool provides insight into the dynamic operation of MEMS devices allowing an assessment of the impact of variations in device design and fabrication on the dynamic response of such structures. The data obtained also allows the postponement of expensive prototype fabrication and provides a validated foundation upon which future studies can be conducted. Simulating perturbations in key device parameters for the GEMS device illuminates the edges of the feasible design space for that device. The results obtained clearly illustrate the inadequacies of modelling techniques that neglect the distributed nature of the structural problem, or the dynamics of the system. The thesis concludes with a discussion of salient results noting future avenues for research and development.
Rights
Copyright Mark William Carey