Chassis dynamometer software, inertia determination and recalibration.
(2002)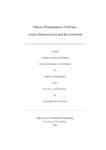 View/Open
Type of Content
Theses / Dissertations
Degree Name
Master of Engineering
Publisher
University of Canterbury. Mechanical Engineering
Collections
Authors
Bennetts, Christopher Dean
show all
Abstract
The University of Canterbury chassis dynamometer exists to enable specific andrepeatable motor vehicle testing to be carried out in the University's Department ofMechanical Engineering. Dynamometer testing is invaluable in the development ofnew vehicle technologies, such as electric and hybrid configurations, and theassessment of existing vehicles' performance. This thesis includes a description ofthe dynamometer, and of the recalibration and software work that has been carriedout to enable computer-controlled vehicle testing of a flexible and reliable nature.In order to exert a known force at the wheels of a vehicle on the chassisdynamometer, the appropriate equations of motion must be applied to the knowninertial mass and frictional characteristics of the dynamometer system. Theseequations of motion are discussed in terms of the chassis dynamometer and theirapplication in the simulation of realistic on-road vehicle forces. Several techniqueshave been proposed to determine the system friction and inertia, and the mostappropriate method was chosen on the basis of repeatability and equipmentlimitations.Dynamometer control and data acquisition software has been written in the C++programming language, which includes automated routines for the calibration of thechassis dynamometer as well as several vehicle testing regimes. Analysis softwarehas been created to enable graphical display of test data and the calculation of usefulparameters such as energy consumption and efficiency.Several tests were conducted on a motor vehicle owned by the University ofCanterbury, with a view to determining the effectiveness of the testing procedures,and the accuracy of the dynamometer instrumentation. In light of these test resultsand observations made during the dynamometer development, a number of potentialimprovements to the system have been proposed.
Rights
Copyright Christopher Dean Bennetts
Related items
Showing items related by title, author, creator and subject.