Reviewing the Change: A Comparative Historical Analysis on Immigration Control Policy Change within New Zealand
(2011)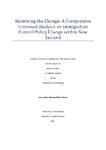 View/Open
Type of Content
Theses / Dissertations
Thesis Discipline
Political Science
Degree Name
Master of Arts
Publisher
University of Canterbury. Social and Political Sciences
Collections
Authors
Blackwell, Laura-Alice Caitlin
show all
Abstract
Immigration plays a key role in international politics and contributes socially, politically and economically to the functions of a state. Understanding and analysing the immigration policy of a nation is therefore very important; as it allows knowledge to be gained regarding what factors can influence a nation's immigration policy to change and how these factors can be identified. This thesis focuses on five theories that are recognised internationally as attempting to identify the factors that can influence immigration control policy change and therefore explain why immigration policy does change over time. These five theories are then compared to ten specific immigration policy changes that have occurred within New Zealand since 1964 in order to discover which theory best explains and identifies the key influences. In a world that is being made smaller through globalisation, immigration and immigration policy continues to maintain an important status in international relations and politics. This thesis aims at filling the gap in immigration research within New Zealand by analysing the factors that influence immigration policy to change, rather than focusing on whether immigrants themselves are an economic benefit or detriment to the economy of New Zealand. Immigration is not a monolithic term, and only by analysing how immigration policy has been influenced in the past can future changes to the immigration policy of New Zealand can be made with knowledge and understanding.
Rights
Copyright Laura-Alice Caitlin Blackwell
Related items
Showing items related by title, author, creator and subject.
Shannon, William

(

University of Canterbury. National Centre for Research on Europe

,

2009

)

Research has observed an ever-increasing emphasis which is placed on the international dimension in higher education. This thesis is particularly interested in the question, why internationalisation? It constitutes a case ...

Kenix, L.J.

(

University of Canterbury. Media and Communication and Journalism

,

2008

)

This research explored how newspapers in New Zealand and the United States utilised four news frames (conflict, human interest, morality and responsibility) about same-sex rights to construct a cultural reality during a ...

Kenix, L.J.

(

University of Canterbury. Mass Communication and Journalism.

,

2006

)

On 26 April 2005, The Civil Union Bill officially granted registered same-sex couples in New Zealand recognition and relationship rights that are equal to that of traditional marriage. In a relatively short time, the country ...