Sustainability, reputation and legitimacy: An in-depth case study of organisational systems and decision-making at a multi-national company
(2012)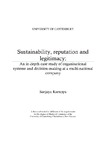 View/Open
Type of Content
Theses / Dissertations
Thesis Discipline
Accountancy
Degree Name
Master of Commerce
Publisher
University of Canterbury. Accounting and Information Systems
Collections
Authors
Kuruppu, Sanjaya Chinthana
show all
Abstract
Purpose: This purpose of this thesis is to investigate a company's understanding of 'sustainability' and how this concept is integrated into organisational processes and decision making. Firstly, the internal sustainability systems which lead up to external social and environmental reporting will be examined. Secondly, the role of reputation management and legitimacy in driving company response behaviours around short-term and long-term environmental issues will be explored. Prior research is mainly limited to studies on external social and environmental reporting. The present study adds to the literature by exploring the internal mechanisms and behaviours which underlie external reporting practice. New theoretical insights are provided into legitimacy theory by presenting a framework linking aspects of reputation, resource dependence theory, and stakeholder theory.
Design and methodology: Research is conducted through an in-depth case study at a wholly-owned foreign affiliate of a large multinational organisation involved in an environmentally sensitive industry. Data collection was extensive, including semi-structured interviews and non-structured talks with 26 participants from top management executives through to production workers. Access was also granted to confidential reports, participation in the company's annual environmental seminar and a stakeholder engagement meeting. Analysis was conducted in a number of phases, framed around research questions and themes drawn from prior literature.
Findings: Findings and discussion are presented on three major research questions. Findings on the first research question about internal sustainability systems in the company suggest that senior management are incorporating sustainability issues into strategic planning. However, concerns over the environment have not fully cascaded down to the lower levels of the firm. Although Management Control and Environmental Management Systems are well integrated, these systems are relatively decoupled from the external reporting process. The second and third research questions focus on the distinction between the concepts of "reputation" and "legitimacy" in the case company. Three short-term issues and a long-term strategic decision in the company are outlined to illustrate how company response behaviours change according to: 1) the visibility of the issue, 2) stakeholder salience, and 3) the interconnectedness of stakeholders around the problem. The case company prefers direct action to contain problems where possible, and external reporting only features in some scenarios. Ultimately, it is proposed that reputation and legitimacy must be understood in terms of behaviours as well as external reporting outcomes.
Originality/value: There has been a considerable focus on external reporting in corporate sustainability research, particularly in the accounting literature. The work that has been done on internal systems has been largely limited to case study work focused on characteristics and preconditions of sustainability processes together with limitations in current practice. The purpose of this research is to produce an in-depth case study looking at company responses to sustainability issues. It provides some new perspectives on the well researched concept of legitimacy along with some potential avenues for further theory development.
Keywords
Sustainability; reputation; legitimacy; decision making; EMS; reporting
Rights
Copyright Sanjaya Chinthana Kuruppu