Perceptual learning of dysarthric speech: A review of experimental studies
(2011)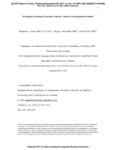 Type of Content
Journal Article
Publisher
University of Canterbury. Communication Disorders
Authors
Borrie S.A.
McAuliffe M.J.
Liss J.M.
show all
Abstract
Purpose: This review article provides a theoretical overview of the characteristics of perceptual learning, reviews perceptual learning studies that pertain to dysarthric populations, and identifies directions for future research that consider the application of perceptual learning to the management of dysarthria. Method: A critical review of the literature was conducted that summarized and synthesized previously published research in the area of perceptual learning with atypical speech. Literature related to perceptual learning of neurologically degraded speech was emphasized with the aim of identifying key directions for future research with this population. Conclusions: Familiarization with unfamiliar or ambiguous speech signals can facilitate perceptual learning of that same speech signal. There is a small but growing body of evidence that perceptual learning also occurs for listeners familiarized with dysarthric speech. Perceptual learning of the dysarthric signal is both theoretically and clinically significant. In order to establish the efficacy of exploiting perceptual learning paradigms for rehabilitative gain in dysarthria management, research is required to build on existing empirical evidence and develop a theoretical framework for learning to better recognize neurologically degraded speech.
Citation
Borrie S.A., McAuliffe M.J., Liss J.M. (2011) Perceptual learning of dysarthric speech: A review of experimental studies. Journal of Speech, Language & Hearing Research, 55, pp. 290-305.
This citation is automatically generated and may be unreliable. Use as a guide only.
Keywords
dysarthria; speech perception; perceptual learning
ANZSRC Fields of Research
17 - Psychology and Cognitive Sciences::1702 - Cognitive Science::170204 - Linguistic Processes (incl. Speech Production and Comprehension)
Related items
Showing items related by title, author, creator and subject.
Tillard G

;

Cook KJ

;

Gerhard D

;

Keast L

;

McAuliffe M

(

2018

)

In summary, there is widespread support for the use of group discussion in reflective practice (Caty et al., 2015). The interaction with peers allows for the exchange and comparison of beliefs and behaviours, perspectives ...

McAuliffe, M.J.

;

Borrie, S.A.

;

Good, P.V.

;

Hughes, L.

(

University of Canterbury. Communication Disorders

,

2010

)

Traditionally, speech production deficits have been the focus of clinical practice and research in dysarthria. However, recent research has begun to examine the role of the listener in communication interaction. This article ...

Theys C

;

McAuliffe MJ

(

Swets & Zeitlinger

,

2017

)

In the last decade, research on motor speech disorders has increasingly taken into account the bidirectionality between speaker and listener. Listening to disordered speech (e.g., dysarthria) may result in substantial ...