Nonlinear Control Analysis of an ICU Model for Tight Glycaemic Control
(2011)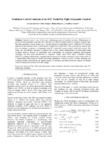 Type of Content
Conference Contributions - Published
Publisher
University of Canterbury. Mechanical Engineering
Collections
Authors
Kovacs, L.,
Szalay, P.,
Benyo, B.,
Chase, J.G.
show all
Abstract
Intensive care is one of the most challenging areas of modern medicine. Maintenance of glucose levels in intensive care unit (ICU) patients via control of insulin inputs is an active research field. Accurate metabolic system models are a critical element of automatic control. Different ICU models appeared in the literature some of them already validated in clinical trials. The current paper analyzes and gives a nonlinear synthesis of a frequently used ICU metabolic system model's redefined version. The model has been already validated in clinical trials. Global control characteristics are determined using nonlinear analysis. Results of reachability and observability are explained regarding physiological meanings, and then exact linearization is computed. Finally, quasi affine linear parameter varying (qALPV) modeling methodology is applied and compared with results obtained by exact linearization. It is demonstrated that inside the chosen scheduling parameters' vertex the qAPLV model represents the nonlinear system itself without any approximation. Conclusions are drawn from this analysis for further robust nonlinear model based controller design.
Citation
Kovacs, L., Szalay, P., Benyo, B., Chase, J.G. (2011) Nonlinear Control Analysis of an ICU Model for Tight Glycaemic Control. Milan, Italy: 18th World Congress of the International Federation of Automatic Control (IFAC 2011), 28 Aug-2 Sep 2011. 6pp.
This citation is automatically generated and may be unreliable. Use as a guide only.
Keywords
intensive care; tight glycaemic control; nonlinear analysis; exact linearization; qALPV; scheduling parameter
ANZSRC Fields of Research
32 - Biomedical and clinical sciences::3202 - Clinical sciences::320212 - Intensive care
32 - Biomedical and clinical sciences::3202 - Clinical sciences::320208 - Endocrinology