Effect of speaker age on speech recognition and perceived listening effort in older adults with hearing loss
(2012)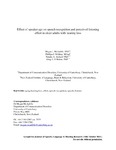 Type of Content
Journal Article
Publisher
University of Canterbury. Communication Disorders
ISSN
1558-9102
Authors
McAuliffe, M.J.
Wilding, P.J.
Rickard, N.A.
O'Beirne, Greg A.
show all
Abstract
Purpose: Older adults exhibit difficulty understanding speech that has been experimentally degraded. Age-related changes to the speech mechanism lead to natural degradations in signal quality. We tested the hypothesis that older adults with hearing loss would exhibit declines in speech recognition when listening to the speech of older adults, compared with the speech of younger adults, and would report greater amounts of listening effort in this task. Methods: Nineteen individuals with age-related hearing loss completed speech recognition and listening effort scaling tasks. Both were conducted in quiet, when listening to high and low predictability phrases produced by younger and older speakers respectively. Results: No significant difference in speech recognition existed when stimuli were derived from younger or older speakers. However, perceived effort was significantly higher when listening to speech from older adults, as compared to younger adults. Conclusions: For older individuals with hearing loss, natural degradations in signal quality may require greater listening effort. However, they do not interfere with speech recognition – at least in quiet. Follow-up investigation of the effect of speaker age on speech recognition and listening effort under more challenging noise conditions appears warranted.
Citation
McAuliffe, M.J., Wilding, P.J., Rickard, N.A., O'Beirne, G.A. (2012) Effect of speaker age on speech recognition and perceived listening effort in older adults with hearing loss. Journal of Speech, Language, and Hearing Research, (in press).
This citation is automatically generated and may be unreliable. Use as a guide only.
Keywords
aging; hearing loss; effort; speech recognition; speech; listener
ANZSRC Fields of Research
20 - Language, Communication and Culture
17 - Psychology and Cognitive Sciences::1702 - Cognitive Science::170204 - Linguistic Processes (incl. Speech Production and Comprehension)
Related items
Showing items related by title, author, creator and subject.
Theys C

;

McAuliffe MJ

(

Swets & Zeitlinger

,

2017

)

In the last decade, research on motor speech disorders has increasingly taken into account the bidirectionality between speaker and listener. Listening to disordered speech (e.g., dysarthria) may result in substantial ...

McAuliffe, M.J.

;

Borrie, S.A.

;

Good, P.V.

;

Hughes, L.

(

University of Canterbury. Communication Disorders

,

2010

)

Traditionally, speech production deficits have been the focus of clinical practice and research in dysarthria. However, recent research has begun to examine the role of the listener in communication interaction. This article ...

Tillard G

;

Cook KJ

;

Gerhard D

;

Keast L

;

McAuliffe M

(

2018

)

In summary, there is widespread support for the use of group discussion in reflective practice (Caty et al., 2015). The interaction with peers allows for the exchange and comparison of beliefs and behaviours, perspectives ...