An in-silico Analysis of the Ability of Dynamic Tests to Trace the Kinetic Behaviour of Insulin Sensitizer Drugs
(2011)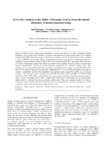 View/Open
Type of Content
Conference Contributions - Published
Publisher
University of Canterbury. Mechanical Engineering
Collections
Authors
Docherty, P.D.,
Chase, J.G.,
Lotz, T.,
Berkeley, J.,
Shaw, G.M.
show all
Abstract
A Monte Carlo analysis was undertaken to measure the ability of a series of dynamic insulin sensitivity and secretion tests (DISST) to observe and quantify the time-varying effect of an insulin sensitizer drug. Physiological parameter values from an insulin resistant individual were used to simulate a series of DISST tests with the effects a hypothetical sensitizer drug (based on Metformin) that was assumed to elevate insulin sensitivity (D) by 50%, and have absorption (Dk1) and decay (Dk2) half-lives of ~30 and ~140 minutes respectively. Noise was added to data sampled from the simulation and allowed repeated identification of pharmaco-kinetic/dynamic parameters in clinically realistic data. The coefficients of variation (CV) of the drug variables in this Monte Carlo analysis were CV-D=0.9%, CVDk1= 116.3%, and CV-Dk2=41.4% respectively. Although the CV values for the drug kinetic rates did not indicate considerable stability, the identified time-varying insulin sensitivity profile was relatively accurate to the simulation profile (median error of 0.047 L/mU/min (~2%) and IQR of -0.093 to 0.184 L/mU/min (-4% to 8%)). This result indicates that the proposed method for identifying drug parameters using a series of dynamic tests is able to capture the overall effect of the drug, but has a potentially limited ability to identify the drug parameters individually. Thus, the existing method of arduous, frequently-sampled steady-state tests for the measurement of drug pharmacokinetics and dynamics could be replaced with a series of sparsely-sampled dynamic tests.
Citation
Docherty, P.D., Chase, J.G., Lotz, T., Berkeley, J., Shaw, G.M. (2011) An in-silico Analysis of the Ability of Dynamic Tests to Trace the Kinetic Behaviour of Insulin Sensitizer Drugs. Milan, Italy: 18th World Congress of the International Federation of Automatic Control 2011 (IFAC 2011), 28 Aug-2 Sep 2011. 6pp.
This citation is automatically generated and may be unreliable. Use as a guide only.
Keywords
physiological modeling; pharmacokinetics/dynamics; parameter-identification; insulin sensitivity
ANZSRC Fields of Research
11 - Medical and Health Sciences::1102 - Cardiovascular Medicine and Haematology::110202 - Haematology
11 - Medical and Health Sciences::1103 - Clinical Sciences::110306 - Endocrinology
11 - Medical and Health Sciences::1101 - Medical Biochemistry and Metabolomics
01 - Mathematical Sciences