Power system optimisation : deterministic and stochastic annual scheduling.
(1983)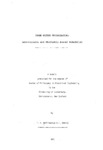 View/Open
Type of Content
Theses / Dissertations
Thesis Discipline
Electrical Engineering
Degree Name
Doctor of Philosophy
Publisher
University of Canterbury. Electrical Engineering
Collections
Abstract
The optimisation of hydro-thermal power systems over a one year horizon is investigated. The objective is to minimise fuel costs by appropriate scheduling of releases from large hydro storage lakes. Fuel cost is the principle avoidable expense in operating such a system as hydro station costs are independent of power generated. A deterministic model is described. It represents all stations fed by each reservoir as one equivalent station. All generation and storage constraints are handled. Transmission losses are determined by a simple d.c. load flow loss coefficients method. A Hamiltonian approach is used to convert this model to a static problem which we can solve by a non-linear programming method. A conjugate gradients algorithm was developed, with emphasis on robustness and accuracy, which successfully solved a number of variants of the problem. As an example, the New Zealand system is solved. It includes eight reservoirs, six thermal stations, and the transmission constraint on a D.C. link. A one reservoir equivalent of this system is used to study various stochastic inflow effects. Stochastic dynamic programming is shown to give quite different results to deterministic methods. A linear feedback algorithm representing storage probability distributions by a Gaussian plus an impulse is tested. This sub-optimal method does not suffer from the dimensionality barrier of D.P. methods. It is thought to have the potential to provide a practical stochastic scheduling method, for the multi-reservoir case.
Rights
Copyright T. S. Halliburton