The control of flexible-link robots carrying large payloads : from theory to experiments.
(1999)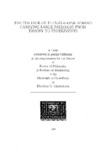 View/Open
Type of Content
Theses / Dissertations
Thesis Discipline
Mechanical Engineering
Degree Name
Doctor of Philosophy
Publisher
University of Canterbury. Mechanical Engineering
Collections
Authors
Christoforou, Eftychios G.
show all
Abstract
Robotics is a very large engineering field with a wide and constantly expanding range of applications. Apart from its economic significance, the elegant nature of the problem and its multidisciplinary character make it a most interesting as well as challenging field of study. Flexible-link robots in particular, constitute one of the richest and at the same time most difficult problems ever encountered in the field. Conventional rigid-link robots, both in terms of dynamic analysis and control, can be viewed as a special case of flexible ones which results from suppressing the elastic configuration dependence. Flexible-link robots have already been employed in space operations and a large potential is seen for a new generation of flexible robots to be used in earth-based applications. Such robots are endowed with certain attractive features but at the same time flexibility affects both their tracking and positioning capabilities and dramatically complicates the control problem. The control of flexible-link robots, which constitutes an engineering challenge, is the key to their success. The present thesis deals with the control problem for flexible multilink robots manipulating large payloads, which is a case that commonly occurs in a space robotic manipulation scenario. Before the control problem is actually tackled, both the dynamics and control problems are reviewed in detail and the current state of technology in the field is surveyed. Then, building on previous research, solutions to the problem are proposed and thoroughly investigated. In particular, a model-based control technique is considered together with its adaptive counterpart, which is able to deal with the problem of uncertainty in the mass properties. Both schemes belong to a family of controllers called passivity-based, which by nature exhibit good robustness characteristics. Apart from the theoretical results and the extensive simulation studies that were involved in the research, one further step was taken with the actual hardware implementation of the proposed control techniques. The experimental work involved a specially designed robotics facility which will be described in detail. Case studies will be presented in order to demonstrate the applicability and the value of the controllers, provide insight into their nature and investigate their characteristics. Because of the multidisciplinary nature of the problem, the thesis involves the integration of knowledge from various scientific areas such as dynamics, control, sensor technology, mechanical design, materials science, etc.
Rights
Copyright Eftychios G. Christoforou