Analysis of ac/dc system disturbances.
(1980)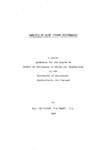 View/Open
Type of Content
Theses / Dissertations
Thesis Discipline
Electrical Engineering
Degree Name
Doctor of Philosophy
Publisher
University of Canterbury. Electrical Engineering
Collections
Abstract
This thesis describes the development of accurate transient equivalents for the efficient modelling of disturbances in interconnect a.c./d.c. power systems. A survey of existing techniques for the dynamic analysis of such transients is made, and their major limitations are outlined. The most recent utilize diakoptical techniques with state space formulation, which allows detailed representation of all system plant, albeit at the expense of high computation costs. Means of reducing such costs to a level which permits digital simulation to complement/replace physical simulators in the analysis of a.c./d.c. network transients are investigated, and an interactive algorithm is proposed which uses a multimachine a.c./d.c. transient stability programme and a small step dynamic analysis to achieve this purpose. Typical disturbances in both a.c. and d.c. networks are investigated to show the potential of the new technique, and its ability to include accurate representation of the full system throughout the study period. The dynamic analysis programme is also used in preliminary investigations of unit type generator-convertor schemes; the developed model provides a rigorous means of testing the practicalities of such schemes.
Rights
Copyright M. D. Heffernan