Cardiovascular and respiratory effects of three fish anaesthetics.
(1999)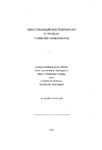 View/Open
Type of Content
Theses / Dissertations
Thesis Discipline
Zoology
Degree Name
Doctor of Philosophy
Publisher
University of Canterbury. Zoology
Collections
Abstract
Whole animal and in vitro experiments were used to compare and contrast the cardiovascular and, to a lesser extent, respiratory effects of three fish anaesthetics at approximately equipotent concentrations: 100 ppm MS222, six to ten ppm metomidate and 60 ppm Aqui-S. Heart rate, cardiac output, dorsal aortic pressure, stroke volume, haematocrit, PaO2 and plasma catecholamines were measured during five minutes of anaesthetic exposure with no other obvious stressors. Observed changes were due to both direct anaesthetic effects and secondary consequences of anaesthesia. Cardiovascular changes and heightened activity of Aqui-S treated fish suggests this anaesthetic causes a nociceptor mediated response. In vitro investigations of branchial haemodynamics, using isolated perfused gill preparations, vasoactivity of branchial arteries, using myography, changes in myocardial contractility of the ventricle, using in vitro paced ventricle strips, and changes in the ability of the stimulated vagus nerve to reduce heart rate, using a spontaneously beating in situ heart and nerve preparation, were performed to help explain the cardiovascular changes in the whole animals during anaesthetic induction. Using the results from these studies and information in the literature the responses of the whole animal were divided into four groups: primary effects were those caused directly by the anaesthetic, secondary effects were caused as a consequence of the primary effects, tertiary effects were due to a reaction to the presence of the anaesthetics and human effects were caused by handling or other manipulation offish. The cardiovascular effects of anaesthetic induction after handling were quite different from those during unstressed anaesthetic induction, and were mostly anaesthetic independent which suggested that the effects of handling were greater than the effects of anaesthetic exposure. Oxygen consumption during 24 hours recovery from anaesthesia showed there were no long term changes in respiration. Measurements of heart rate, cardiac output, dorsal aortic pressure and stroke volume during six hours recovery from five minutes exposure to the three anaesthetics showed recovery of these variables occurred within 30 minutes. However, Aqui-S treated fish showed an elevated stroke volume 30 minutes into the recovery. Measurements of heart rate, cardiac output and stroke volume during recovery from anaesthesia and surgery suggested the cardiovascular effects were at least partially dependent on the anaesthetic used. However, the difference between the cardiovascular effects with and without surgery were far greater than any between anaesthetic effects.
Rights
Copyright Jonathan Vernon Hill