Changes in chemistry, color, dimensional stability and fungal resistance of Pinus radiata D. Don wood with oil heat-treatment
(2011)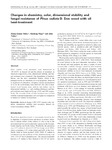 Type of Content
Journal Article
Publisher
University of Canterbury. Chemical and Process Engineering
University of Canterbury. School of Forestry
ISSN
1437-434X (Online)
Collections
Authors
Dubey, M.K.
Pang, S.
Walker, J.
show all
Abstract
Pinus radiata wood specimens were heat-treated at 160-210°C in linseed oil and the effects of treatment on chemical composition, color, dimensional stability, and fungal resistance were examined. The degradation of hemicelluloses was the most remarkable feature, which is the principal reason for alterations in wood properties. Removal or migration of extractives, oil uptake and the accumulation of oil on the wood surface were observed. The color of heat-treated wood became more uniform and darker, and its dimensional stability (i.e. anti-swelling efficiency) and fungal resistance were improved by up to 60% and 36%, respectively. The viscosity of the oil after treatment was elevated with the treatment temperature and was higher in comparison to heated oil without wood present.
Citation
Dubey, M.K., Pang, S., Walker, J. (2011) Changes in chemistry, color, dimensional stability and fungal resistance of Pinus radiata D. Don wood with oil heat-treatment. Holzforschung, 65(early access online).
This citation is automatically generated and may be unreliable. Use as a guide only.
Keywords
wood technology; chemical change; CIEL*a*b* system; color variation; dimensional stability; heat treatment; linseed oil; weight percentage change (WPC).
ANZSRC Fields of Research
09 - Engineering::0904 - Chemical Engineering
03 - Chemical Sciences::0303 - Macromolecular and Materials Chemistry::030304 - Physical Chemistry of Materials
30 - Agricultural, veterinary and food sciences::3007 - Forestry sciences::300712 - Wood processing
Related items
Showing items related by title, author, creator and subject.
Dubey, M.K.

;

Pang, S.

;

Chauhan, S.S.

;

Walker, J.

(

University of Canterbury. Chemical and Process EngineeringUniversity of Canterbury. School of Forestry

,

2016

)

This study investigated the dimensional stability and mechanical properties of thermo-mechanically compressed radiata pine (Pinus radiata) wood followed by oil heat-treatment. Wood specimens were first compressed in the ...

Thomas, L.H.

;

Forsyth, V.T.

;

Martel, A.

;

Grillo I.

;

Altaner, C.M.

;

Jarvis, M.C.

(

University of Canterbury. School of Forestry

,

2014

)

The structure of cellulose microfibrils in situ in wood from the dicotyledonous (hardwood) species cherry and birch, and the vascular tissue from sunflower stems, was examined by wide-angle X-ray and neutron scattering ...

Following initial feasibility work in 2007 [1] and a MAFBNZ funded project in 2009 [2], the Joule heating concept for log sterilization was incorporated into the STIMBR PGP project as section 1.5.2. This report details ...