Effect of rheology on the bitumen foamability and mechanical properties of foam bitumen stabilised mixes
(2007)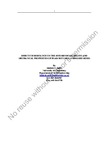 View/Open
Type of Content
Journal Article
Publisher
University of Canterbury. Civil Engineering.
Collections
Abstract
The use of foamed-bitumen stabilization technique is growing steadfastly and it is gaining wide spread acceptance in many different countries. This technique is new to New Zealand and it just has started to achieve some acceptance within the highway construction industry.
In the first part of this work, bitumens from seven different bitumen sources were collected and examined. Three sources that are currently used in New Zealand, three bitumens are from three sources in California in the US, and one source is imported from Australia. The physical properties of bitumens such as penetration, viscosity and softening point, in addition to foamability tests were carried out on these bitumens samples in order to examine the effect of bitumen source, grade and bitumen rheology on the characteristics of the resulting foam.
Mixes with similar gradation were prepared with the foam bitumen resulting from the different grades and sources were subjected to resilient modulus tests to examine the mechanical properties, temperature and moisture susceptibility. It was proved that the use of temperature susceptible binders does not have a direct effect on the foaming properties. However, the resulting mixtures are likely to be sensitive to temperature change. Temperature susceptibility of foamed stabilised mixes is lower than that of the HMA. Foamed stabilised mixes exhibited a significantly improved moisture resistance as the mixes kept their integrity and strength and they did not deteriorate significantly, even after 5 days of continuous soaking in water. The average index of retained stiffness (IRS) value of 86% was observed which is reasonably high and comparable with that recommended for the HMA mixes. Indirect tensile strength (ITS), fracture energy and fatigue life were examined and compared with HMA.
Citation
Saleh, M.F. (2007) Effect of rheology on the bitumen foamability and mechanical properties of foam bitumen stabilised mixes. International Journal of Pavement Engineering, 8(2), pp. 99-110.
This citation is automatically generated and may be unreliable. Use as a guide only.
Keywords
foamed bitumen; rheological properties; temperature and moisture susceptibility; mechanical properties